The story follows high school student Hotaru Tachibana, a girl disguised as a boy. Through strange circumstances she finds herself drawn into the world of survival games by a host, Masamune Matsuoka. The two form a team with ero-manga artist Tooru Yukimura and aim to be the best in Japan.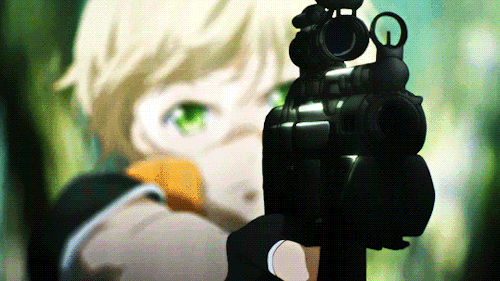 Sadly this anime ended already and there come up only 12 episodes, I would watch this so much more! I would say that this was one of my favorites from this years Summer animes! The story is good, the animation looks good and fit well for this kind of anime, musics and voice acting is really good, I liked actually all the characters and this was really fun and interesting to watch~~
The story is pretty simple and reminds me so much about Ouran High School Host Club!
Well the main character is girl who look like a boy and then there is this blond host character and of course in first episode the main character broke things and have to pay them. It's almost too similar, but I don't mind because I really like that setting and you haven't seen that too often. Even though the start is really similar with Ouran, the story goes quite different way. Even though this anime goes sometimes really dark there is so much funny scenes too! I really like that, there is comedy but still sometimes things get serious.
Like I said, I really liked Aoharu's musics and voice actors. Specially Komatsu Mikako did great job acting the main character Tachibana. Even though Tachibana is girl she must sound little boy like because everybody think that she is a boy. I really liked that the voice actor is girl too~ Great job~
And then the characters! I really liked the three main characters~ They are so different from eatch others and the character design is spot on when you think about their personalities. Of course there are good supporting characters too but this time the main character team is just the best~ I really can't easily decide which of them I like the best... buuutttt maybe if I must... Yukimura would be the best... maybe~
Overall this is really good comedy and action anime! And I hope so much that there come season 2, I want it so bad and this leaves a little unfinished (well the manga is still publishing, so of course). Of course I might read the manga because I can't wait to see more of this :'D